So, I know it may be hard to believe but I still do not have Lyla's room done yet. I know there is really no excuse for it but I always seem to be working on something else ( like feeding times and changing diapers. It is apparently never ending ). I did have to change the room I was going to use so that changed the color scheme and decor and I have had a hard time finding something else that I like. I didn't want it to be the basic nursery decor. After much searching and mind changing I think I finally know what I want to do. Here are a few pictures of the things that I like.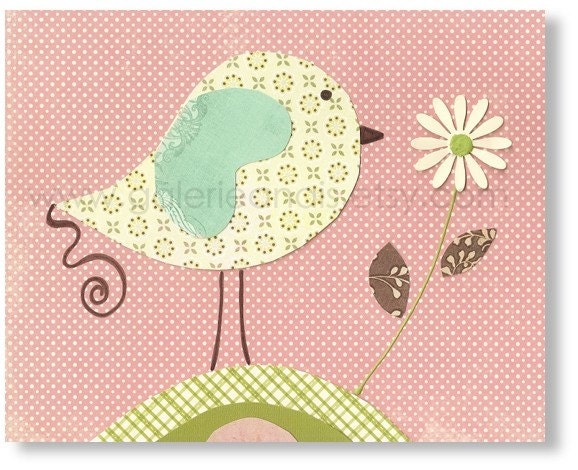 This is a picture from a shop on Etsy. I love these kinds of pictures. They seem so dainty and unique. Here is another one that I really like as well.
Aren't they just adorable?!! I thought about trying to make them myself but I have not been able to find paper prints that I like as much as theses ones so I am going to break down and order them. Lyla is worth every penny;)
So there are some of my ideas, or rather prints that I am trying to base her room around. I also have flowers on the wall with her name. Everything is white with just a little bit of very light pink. I will post finished pictures as soon as I have everything in!!! I can't wait to see the end result.
Mary Elizabeth